Description
See Legendary
The latest addition to the legendary 5D family
The EOS 5D Mark IV camera expands on its 5D heritage with new features and enhanced operation designed to exceed expectations of what a camera can do.??From high-resolution stills to 4K video, the EOS 5D Mark IV camera??s full-frame sensor is poised to deliver phenomenal results with efficiency and ease, no matter the assignment.
Canon's commitment to imaging excellence is the soul of the EOS 5D Mark IV.
Wedding and portrait photographers, nature and landscape shooters, as well as creative videographers will appreciate the brilliance and power that the EOS 5D Mark IV delivers. Superb image quality is achieved with Canon's all-new 30.4 Megapixel full-frame sensor, and highly-detailed 4K video is captured with ease. Focus accuracy has been improved with a refined 61-point AF system and Canon's revolutionary Dual Pixel CMOS AF for quick, smooth AF for both video and Live View shooting.
Fast operation is enhanced with Canon's DIGIC 6+ Image Processor, which provides continuous shooting at up to 7.0 fps*. Built-in Wi-Fi??**, GPS*** and an easy-to-navigate touch-panel LCD allow the camera to become an extension of you. When quality matters, the EOS 5D Mark IV helps deliver results to inspire even the most discerning imagemaker.
New 30.4 Megapixel Full-Frame CMOS Sensor
For versatile shooting in nearly any light
The EOS 5D Mark IV camera boasts a full-frame, high-speed CMOS sensor that??s ideal for a broad range of applications with its remarkable high-resolution abilities. Measuring approximately 36.0mm x 24.0mm, the same size and ratio as a 35mm film frame, it records 30.4 effective Megapixels at normal ISOs of up to 32000. It also captures incredible still and 4K video clips suitable for significant post-processing, retouching and cropping. Versatile in virtually all kinds of light and any shooting situation from print and wedding to full-bleed magazine spreads and other commercial or fine art use, the EOS 5D Mark IV consistently produces high-resolution 4K video and image files that are easily compatible with any number of diverse workflows.
??
ISO 100??2000 (expandable to 50??02400)
Featuring an ISO range of 100??2000 (expandable to 50??02400), the EOS 5D Mark IV camera is incredibly well-suited for low-light photography. Its sensor has an improved S/N ratio plus an improved noise-processing algorithm to help deliver high-level light sensitivity along with its high resolution, with virtually no compromise in image quality. Whether working in a dimly lit auditorium, trying to capture the action at night, photographing at the fastest possible shutter speed or simply suppressing camera shake blur, the EOS 5D Mark IV has an extended ISO range that contributes to its ability to excel in nearly every situation it faces.
4K Motion JPEG Video
The EOS 5D Mark IV is a remarkably capable video camera.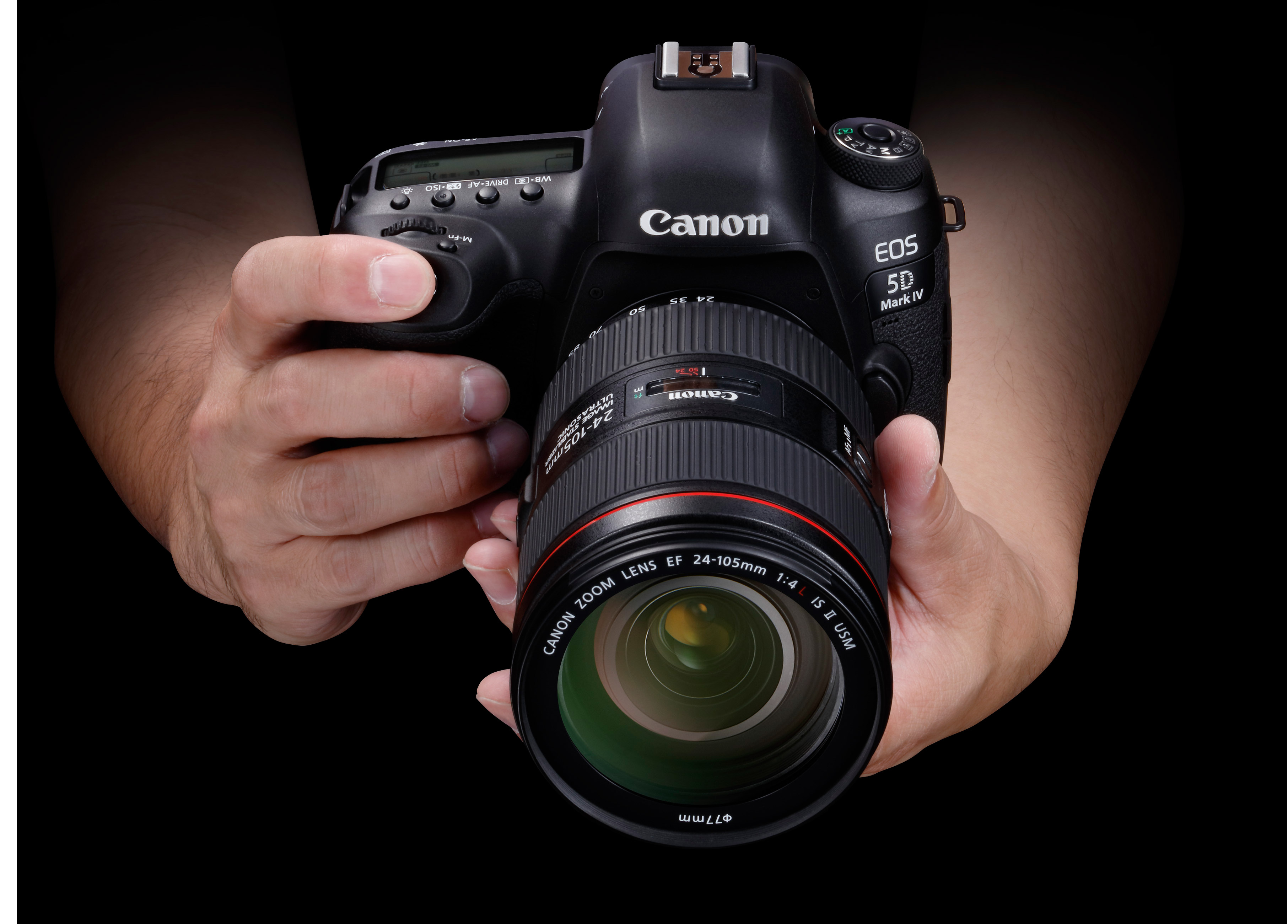 Thanks to its impressive CMOS sensor and its high-speed DIGIC 6+ Image Processor, it can transition from taking still images to shooting videos in a near instant, capturing Digital Cinema (DCI) standard 4K (Motion JPEG) videos of 4096 x 2160 pixels at up to 30 or 24 fps. Adding to its versatility, it also supports the 4K broadcasting standard of 3840 x 2160 pixels with slight trimming on the left and right sides. Featuring advanced Live View operation and brilliantly responsive Dual Pixel CMOS AF, the 5D Mark IV has a touch panel display with focus points that can easily be selected during operation, and quickly confirmed by selecting and saving an 8.8-Megapixel image with in-camera 4K still frame grab*. Along with capturing beautiful 4K videos, the EOS 5D Mark IV is equally able to shoot Full HD video at up to 60p plus HD at frame rates as high as 120p, ideal for smooth slow-motion video. It also supports both MOV and MP4 formats for a variety of applications right out of the camera.
Superb Dual Pixel CMOS AF
Responsive and smooth AF during video or Live View shooting.
Adding to its powerful and portable design, the EOS 5D Mark IV camera utilizes Canon??s smooth, fast and intelligent Dual Pixel CMOS AF. Featuring two photodiodes per pixel and each pixel capable of phase-difference detection autofocus, the CMOS sensor can deliver fast and accurate AF throughout approximately 80% of the image plane. Able to detect shifts in movement at the pixel level, Dual Pixel CMOS AF enables continuous automatic AF and AF tracking that enhances overall camera operation for sharp still images and smooth, accurate focus transitions in movies. Working with the EOS 5D Mark IV??s 3.2″ch panel LCD screen, Dual Pixel CMOS AF lets photographers select focus points throughout the frame with the touch of a finger, and confirm focus by zooming in on the image or enlarging stills grabbed from video recordings.
3.2″ Touch Panel LCD
LCD monitor has full touch-screen interface, including selection of AF area.
The EOS 5D Mark IV features a 1.62 million dot, low-reflection 3.2-inch Clear View LCD II monitor for bright, sharp display in a wide variety of shooting situations. The LCD??s touch panel surface facilitates fast, intuitive operation, including AF frame switching, menu and setting changes plus image magnification during Live View shooting and movie shooting. Still photographs can also be captured quickly with the touch panel??s shutter release function. A customizable Quick Control screen adds flexibility and convenience for specific users??preferences. Image review and playback are enhanced with the EOS 5D Mark IV camera??s Clear View LCD II Monitor. Not only does the 5D Mark IV??s LCD provide a high-precision image for composition and playback, it also remains visible even when the photographer is wearing polarized sunglasses! In numerous situations in the studio and in the field, the EOS 5D Mark IV??s LCD panel is an ideal complement to its amazing TTL viewfinder.
??
Excellent Performance up to 7.0 FPS Continuous Shooting
With high-performance DIGIC 6+ Image Processor for improved speed and excellent image quality.
The EOS 5D Mark IV camera is designed to keep up with the action. Its remarkable shutter, advanced AF and exposure and image processing systems help ensure virtually instantaneous response and performance at up to 7.0 fps**, even at full resolution. Whether searching for a joyous expression on a bride??s face or capturing an athlete in action, the EOS 5D Mark IV doesn??t let file size compromise the speed of capture even when bracketing exposures of a complex lighting situation, helping photographers and moviemakers attain consistently high performance in many situations.
* Continuous shooting speed may vary depending on the shutter speed, the aperture, the lens being used, the battery charge and various camera settings.
DIGIC 6+ Image Processor
The powerful DIGIC 6+ Image Processor increases the EOS 5D Mark IV camera??s in-camera capabilities, enabling fast operation across the board and helping to ensure that high-quality still image and 4K video recording is achieved no matter the shooting environment. It has a noise-processing algorithm that helps reduce noise at high ISO settings, and features a Digital Lens Optimizer that can automatically apply a variety of aberration and diffraction corrections as well as other corrective measures specific to the lens in use. The EOS 5D Mark IV??s power to perform numerous operations with ease is made possible in large part thanks to the amazing DIGIC 6+ Image Processor.
61 AF Points
With expanded vertical coverage with 41 cross-points
To complement its stellar CMOS sensor and powerful processing abilities, the EOS 5D Mark IV camera incorporates a 61-point High Density Reticular AF II system. It features up to 41 cross-type points and an extensive AF area that extends well into the top and bottom of the peripheral frame. It also has a wide subject tracking area that enhances the AF system with consistent focus tracking to capture the action at hand and includes Canon??s AI Servo AF III, which remembers the AF path and helps refine precision shot-to-shot. Low-light performance is ph"menal ??the AF system??s low-intensity limit is EV -3 at the center AF point and all 61 AF points are compatible down to f/8 for excellent low-light performance, even with lens extenders attached. To help ensure that AF points and other shooting information are visible at a glance, the EOS 5D Mark IV also features Canon??s Intelligent Viewfinder II for a bright, customizable view. Whether choosing individual AF points manually or using one of the camera??s automatic AF selection modes, the EOS 5D Mark IV??s AF system is a significant part of its overall excellence.
??
150,000-Pixel RGB+IR Metering Sensor
Precise exposure metering with flickering light detection, allowing for enhanced scene recognition and face detection capabilities
To help deliver nearly fool-proof performance, the EOS 5D Mark IV camera employs a powerful and instant subject and light analysis system. The iSA Intelligent Scene Analysis system uses its own RGB+IR light sensor with an approximately 150,000-pixel resolution to provide the camera with immense image analysis in an instant, making necessary corrections along the way. The sensor enables Canon??s anti-flicker function, which detects t"frequency and phase of a light source??s flicker (such as a fluorescent light) and captures images near the point of peak brightness when the subject is most likely to be well-illuminated. The EOS 5D Mark IValso incorporates Canon??s Intelligent Tracking and Recognition system (iTR AF) that detects and tracks subjects, automatically switching the AF point to optimize tracking. Using tracking algorithms tailored to recognize faces and colors, this system not only helps to quickly and automatically select the ideal capture settings, but also serves as a brilliant foundation to the EOS 5D Mark IV??s AF system.
Dual Pixel RAW, in-camera Digital Lens Optimizer
During JPEG shooting and Diffraction Correction technologies.
The EOS 5D Mark IV camera is equipped with a number of advanced features designed to combat image degradation from lens aberration, focus and other characteristics that can adversely affect the quality of the final image. The EOS 5D Mark IV??s Dual Pixel CMOS AF "stem enables capture of Dual Pixel Raw (DPRAW) files***. Images shot as DPRAWs have additional adjustment possibilities when processed with Canon??s Digital Photo Professional image processing software, which enables pixel-level adjustment and refinement for still photographs and includes Image Micro-adjustment to help maximize sharpness in detail areas, Bokeh Shift for more pleasing soft focus areas and Ghosting Reduction to help reduce aberrations and flare. The EOS 5D Mark IV camera is also equipped with a number of in-camera optical correction functions previously available only using Digital Photo Professional. It comes preloaded with aberration data particular to specific lenses, helping to eliminate the need to register lens data on previously released lenses and "ecting images with virtually no delay in-camera. The EOS 5D Mark IV not only fixes peripheral brightness and chromatic aberration, but also features distortion correction and diffraction correction. Distortion correction helps resolve barrel and pincushion distortions, while diffraction correction helps to eliminate the blurring effects from diffraction that can be created when capturing an image at a small aperture. The EOS 5D Mark IV??s in-camera Digital Lens Optimizer works with the camera??s DIGIC 6+ Image Processor to help ensure these corrections can be made with virtually no effect on operational speed, even when shooting numerous successions of JPEG images, speeding up the photographer??s workflow and delivering gorgeous images right from the camera.
Built-in Wi-Fi?? and NFC Connectivity
Easy sharing to compatible smart devices, select social media sites and the Canon Connect Station CS100 device.